Solidarity with Daughters of Wisdom religious order in time of need
Global Institute For Transformation (GIFT) is helping the Daughters of Wisdom religious order in Zomba, Malawi plant nutritious sweet potatoes at a critical time. The food situation in Malawi is so bad, it has been elevated to a Level 3 Crisis, the highest level emergency, by the UN World Food Program. It is estimated that 6.5 million people are going hungry. This help -- and more -- is desperately needed.
Malawi has been deemed one of the countries affected the worst by drought this year, resulting in the severe food shortages and hunger. So GIFT is deploying the innovative KickStart "Money Maker" farm irrigation pump system to address the drought conditions and enable two planting seasons of sweet potatoes. This will help produce a maximum yield of sweet potatoes and the plant's edible leaves. No wonder the Sweet Potato has been called, "The Mother Teresa Of Foods."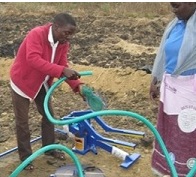 GIFT encourages you to learn more about this ministry and consider supporting their vital work in Malawi. http://wisdom-mission.org/programme-2-2004-health-centre-malawi.html; http://www.fdlsagesse.org/cms/article-157-EN-wisdom-s-presence-in-malawi.html